Are you looking for a time and cost-effective solution to get rid of your green waste?
Call us on 0422 536 055 to learn more about hiring our green waste removal services and skip bins.
We have the team and experience to get the job done. As a family-owned and operated business, our focus is on your needs.
Our Skip Bins For Green Waste
Most wheelie bins in Brisbane aren't designed to accommodate a spring clean of your garden.
A spring clean of your garden will likely generate a huge amount of green waste, which you won't be able to fit into a wheelie bin at one time. With green waste wheelie bins cleared fortnightly, you and your neighbours may have to put with unsightly piles of green waste for some time.
At Brisbane Skips, we have different sized skip bins to accommodate any amount of green waste. All you need to do is load them and we'll transport and dispose of them.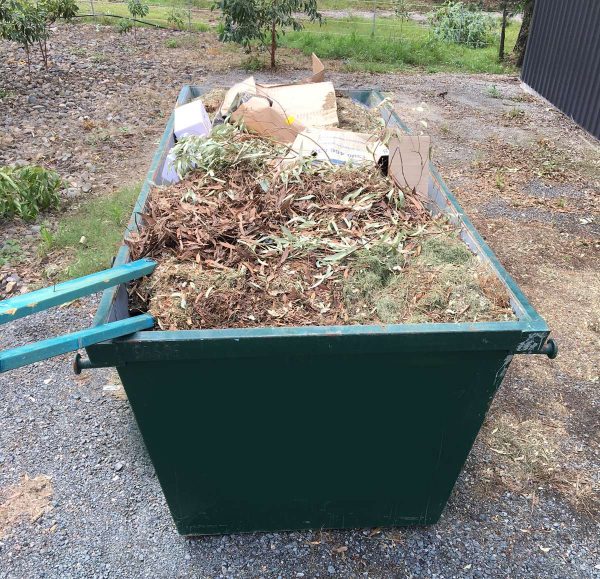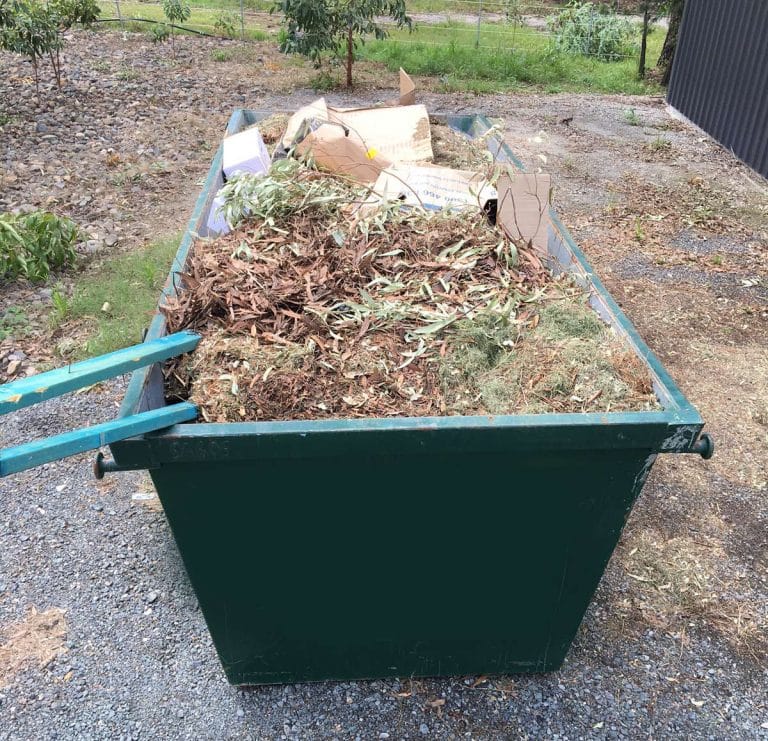 Hiring Brisbane Skips' skip bins for your green waste is much cheaper than man-in-the-van services, which can soon add up. Regardless of the amount of green waste generated, we'll have a skip bin to match it. All you need to is to decide when and how long you want the skip bin to be at your premises. Once you are done, we'll come and take it away.
With Brisbane Skips' green waste services and bins, you'll feel in control and less hurried. You can hire a skip bin for as long as you need – all it takes is planning on your part. What's more, there are no surprising add-on costs to worry about.
Quick Removal Of Your Green Waste
The piles of green waste will be sitting idle on your driveway, back yard or front lawn for days and weeks if you rely on your council wheelie bins to clear them. Unlike garbage waste, your green waste isn't cleared weekly. Most councils clear them fortnightly.
Not only are they unsightly, but they can also be a haven for unwanted guests – pests and rodents! It's an unnecessary addition to your workload to get rid of them.
When you hire green waste removal services and skip bins from Brisbane Skips, you can rest assured we'll tow your skip away in a single trip once you're done. We'll even sweep away any bits of debris left behind!
An Eco-Friendly Solution
If you're thinking there must be a faster way to remove your green waste, think again. Burning green waste is prohibited in most places. Not only is it a fire hazard, but it also pollutes the environment.
When you engage Brisbane Skips, we'll bring your green waste to designated transfer stations where eco-friendly protocols and practices are strictly followed.
At Brisbane Skips, we focus on your needs. From the size of the skip bin to the hiring period, you can expect workable and pragmatic solutions.
Call us today on 0422 536 055 or contact us online to find out more about the hire of waste skip bins Brisbane residents can count on.
What Can Go In A Green Waste Bin?
It's important to know what can go in a green waste bin if you're intending to hire one from us here at Brisbane Skip Bin Hire.
This ensures that everything you put in there is able to be taken away. If your bin includes things that aren't acceptable, we'll be unable to take your bin. Understanding what to put in your green waste bin also makes the sorting process simple and easy – not to mention less confusing.
There are many things we can take in a green waste bin, including:
Weeds
Untreated timber
Teabags
Tissues
Soil
Sticks
Shredded paper
Serviettes
Empty pizza boxes
Seafood
Paper
Paper towels
Leaves
Manure
Kitchen towels
Meat scraps
Grass clippings
Hair
Bones
Coffee grinds
Cold ash
Bamboo food containers
Bamboo food cutlery
Flowers
Dead plants
Fruit and vegetable scraps
Grains
What Can't You Put In A Green Waste Bin?
The list of what you can't put in a green waste bin is far shorter than what can be included.
At Brisbane Skip Bin Hire, we follow the local and national guidelines, so these rules are the same, regardless of who you hire a bin from.
Here's what you can't put in your bin from Brisbane Skip Bin Hire:
Large amounts of soil
Plastic bags
Plant pots
Treated timber
How To Care For Your Green Waste Bin
If you've hired a green waste bin, it's important to know how to care for it properly. The most important reason for proper green waste bin care is that it prevents the risk of foul smells, which are unpleasant for anyone whilst they wait for their bin to be picked up.
We recommend the following tips for keeping your green waste in top condition:
Where possible, store your green waste bin in a shaded area.
When you can, layer your fruit and veg clippings with other green waste.
After it's been emptied, hose down your green waste bin.
Wrap up your vegetable scraps in newspaper to dim the smell.
Gather your kitchen scraps into a compost kitchen caddy beforehand.
Why Hire A Green Waste Bin?
If you don't often get rid of green waste and scraps, then hiring a green waste bin is a much more cost-effective solution. It avoids the risk of paying constantly for something that you only use on rare occasions, making the most of your budget.
Furthermore, using a green waste bin ensures that you dispose of everything in the right way. You play your part in protecting the planet around you with minimal effort.
Try Brisbane Skip Bin Hire
If you're interested in hiring a green waste bin, get in touch with the Brisbane Skip Bin Hire team.
We offer high-quality green waste bin services that you can rely on, so talk to our experts today 0422 536 055 to find out more about disposing of your rubbish in an appropriate manner.